Since 1994….Family Flowers is truly a family affair!
Family Flowers was established in 1994 by Edward (Ed) and Annette Weesjes, who are still the proud owners today!
They built the company with the help of their extended family and their four children: Jacklyn, Eddie, Mark and Nathan. The empty field where the greenhouses sit was developed and has housed many additions over the years. Jacklyn and Mark, continue to be work alongside their parents in the family business. Jacklyn was just a youngster when she began selling bedding plants from a picnic table beside the road. Today she is the Retail Manager, taking care of employees, advertising, marketing and customer service. Mark is the Plant Manager, takes care of maintenance of the buildings and machinery and works with Ed in the Wholesale Department. Ed has been in greenhouses his whole life and currently oversees all the crops, as the main grower and head watering person. Annette takes care of all the book work, and stays busy packing orders and organizing crops. Ed and Annette's other two children – Eddie and Nathan work outside of Family Flowers, but can be found in the greenhouses regularly delivering coffees and offering a helping hand when needed.
Family Flowers aims to produce quality products at fair prices. Year round operation allows for local crops for each season – all grown on site from start to finish, under professional monitoring and state of the art processes. Attention is paid to quality and growth along every step of the plants journey. Crop development can be watched by the public with a visit to the greenhouse, and online with regular social media updates. You can come in and pick from the entire crop for your special product, no warehouses, trucking, or artificial lighting involved. Just clean fresh air, pure sunshine and happy plants.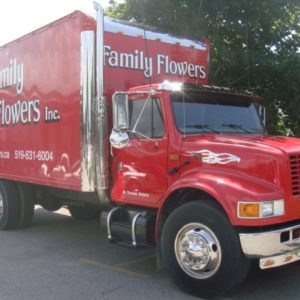 The staff at Family Flowers strives to provide efficient and polite service to our customers in a relaxing and pleasant atmosphere. Our desire is to share our love of plants and flowers and illustrate how they enrich the quality of life of customers, staff and community. You will be greeted with a warm hello and a smile from our friendly retail staff. Visitors of all ages enjoy their time at Family Flowers – whether it is by visiting the animals in the Mini Farm, wandering through the crops, shopping the unique decor, or relaxing on a park bench in the shade of the ficus tree.
Family Flowers successfully offers employment to residents of Elgin County and surrounding area in a professional and friendly surrounding. The growing company plans to continue to convey the fun of gardening to the young and old alike.
Stop in for a visit anytime, watch the crops progress, and go home satisfied knowing you are getting happy, healthy plants.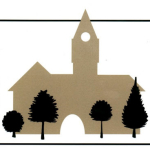 Family Flowers is a proud recipient of the "Free Enterprise Award of Merit" from the St. Thomas Chamber of Commerce. This award recognizes businesses and individuals that have"..distinguished themselves as exceptional with significant contributions to the economic, social and cultural fabric of our community.." In announcing this award, it was specifically mentioned that Family Flowers elected to remain closed on Sundays.